Relleno – in Spanish, the word means "stuffed or filled!" In Belize, locals have grown accustomed to using the term Relleno, when referring to a black soup consisting of vegetables and chicken stuffed with pork and boiled eggs. The soup gains its dark colour, from the black Recado paste that is added which is made of local roasted peppers.

This dish (like many other popular dishes in Belize), is common to Mestizo households of Northern Belize and is typically prepared for special occasions such as birthday parties, graduations and weddings. That doesn't mean that you won't find it anywhere else though, as the dish is now a common lunchtime meal at restaurants across the country and usually costs around $12 Belize dollars.

If you're a foodie like us, you'll be sure to enjoy our cooking guide to creating Relleno: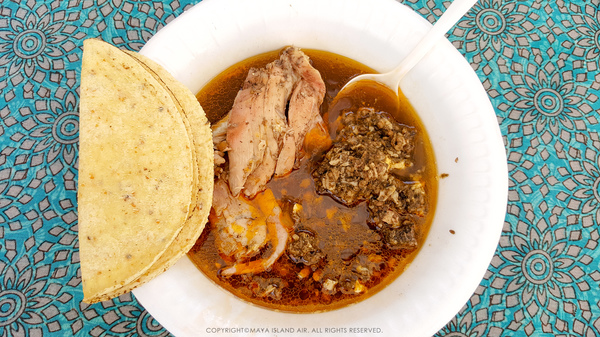 Ingredients:
1 whole chicken
1 teaspoon freshly ground black pepper
1 teaspoon salt
1 teaspoon fat
1 tablespoon vegetable oil
1 white onion – diced
1 sweet pepper – diced
2 tomatoes – chopped
1½ teaspoons garlic, minced
2 teaspoon oregano leaves, crushed
2-3 apasote leaves, crumbled
2 pounds ground pork
2 eggs, raw
8 eggs, hard-boiled, peeled
1 black recado square 
Preparation:
Clean and season chicken with salt and black pepper .
Heat frying pan and add 1 teaspoon fat.
Season ground pork with salt, black pepper, onions, garlic, oregano leaves and apasote leaves. Place meat mixture in frying pan.
Fry until well done. Turn frequently.
Remove from heat and add raw eggs. Mix well.
Stuff seasoned chicken with ground pork. Put in a whole hard-boiled, peeled egg after each portion of ground pork is inserted. Continue until all ground pork and eggs are used. Sew up Chicken.
Boil Chicken in sufficient water to cover up Chicken.
Add black recado to 1 cup water. Mix to soften. This gives the colour.
Add sweet pepper and tomatoes for added flavour.
Turn Chicken frequently to cook properly.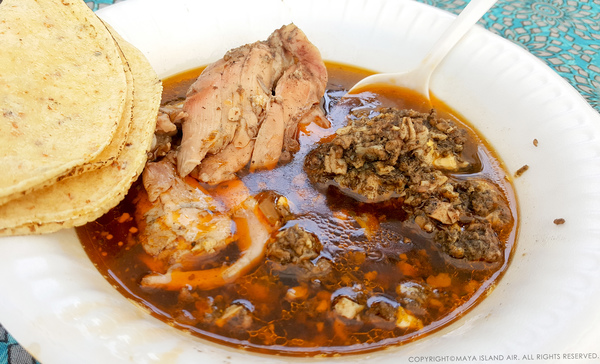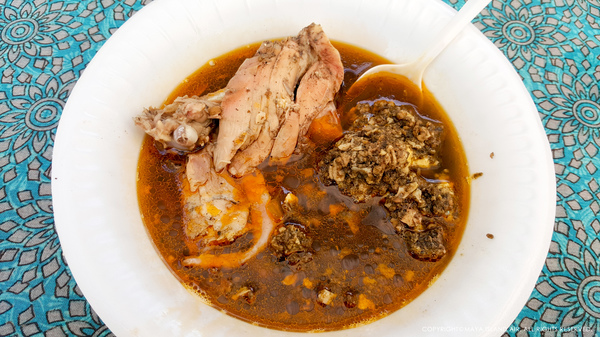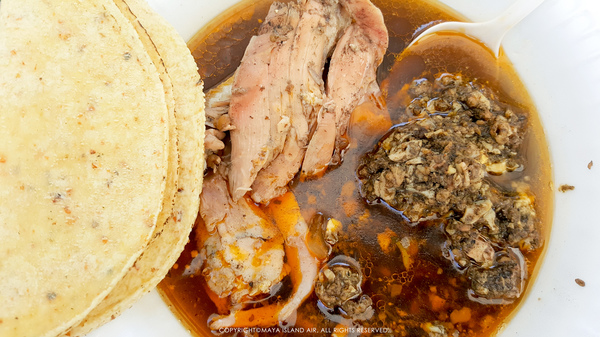 Optional: Chicken can be removed from liquid and browned in the oven. For a spicier taste, add a whole habanero to the soup. Serve with corn tortillas.
Maya Island Air offers daily scheduled flights to 9 destinations across Belize including Corozal, Caye Caulker and Dangriga. Experience your #foodietour by visiting Maya Island Air today.