Belize is a cultural melting pot and a country filled with a wide array of ethnicities from across the globe. These groups bring a unique selection of cuisines native to their country and infuse them with a few Belizean twists. To aid in satisfying your taste buds and learn a bit more about these dishes, Maya Island Air will be featuring a monthly 'How to' cooking guide that will feature local images, videos and recipes.

This month's dish is a popular selection of the Garinagu (Ga-ri-na-gu) people known as Fish Seré, a creamy chowder made with chunks of fish fillet sautéed with ground foods. This filling meal is also typically served with coconut-milk infused rice and tasty plantain strips.

If you're a foodie like us, you'll be sure to enjoy our cooking guide to creating this tasty dish: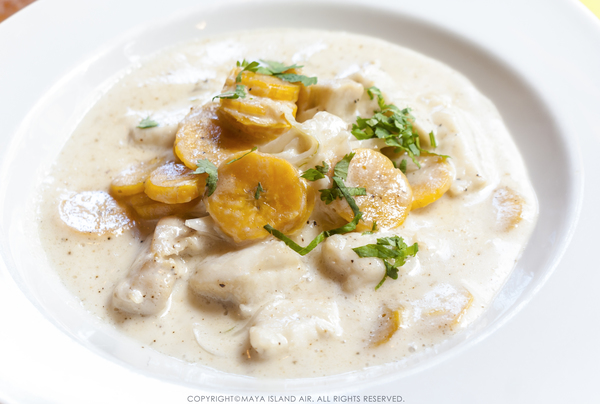 Yields: 2 Servings
Time: 45 minutes
Ingredients:
2 medium-sized snapper fillet
2 large green plantain, sliced
1 small carrot, diced
1 ½ cup coconut milk
1 ½ cup water
1 teaspoon salt
½ teaspoon black pepper
2 plugs garlic, minced
½ an onion, julienned
1 whole Habenero pepper (optional)
Preparation:
Clean and prepare fish: Begin by cleaning the snapper fillet, cutting them into smaller pieces and seasoning them to liking.
Prepare the chowder: Add the coconut milk, water, onion, garlic, carrot and plantain into a saucepan, and cook over medium heat. Stir mixture occasionally.
Add seasonings: Add the salt and black pepper for taste.
Add fish: When the mixture begins to reach boiling point, bring to a simmer and add the pieces of snapper and whole Habanero pepper. Stir occasionally.
Once the fish is tender, it is ready to be served alongside freshly prepared rice.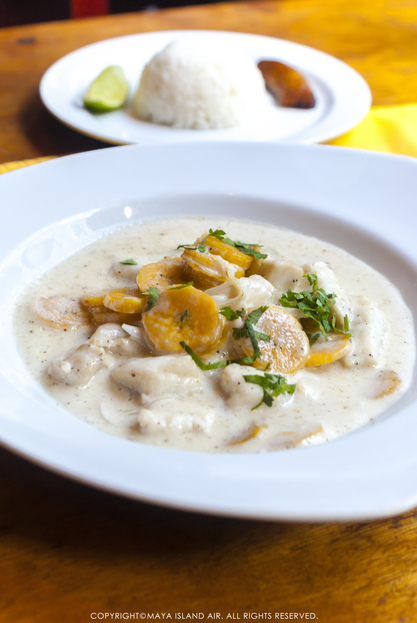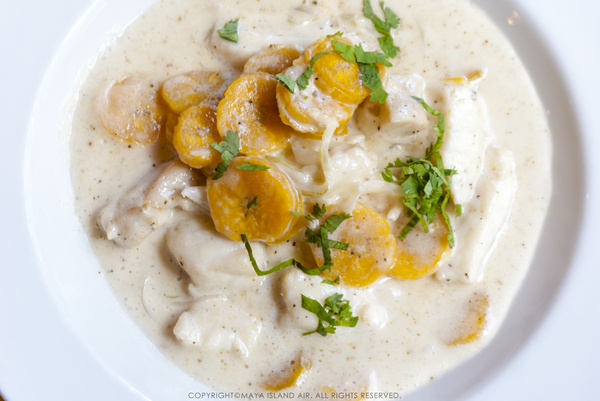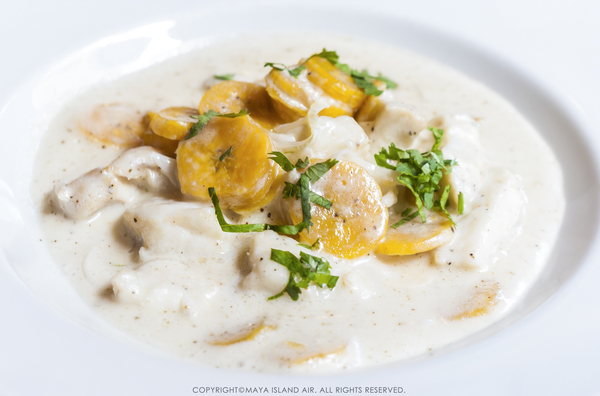 Be sure to grab a couple of family members or friends to enjoy this delicious meal.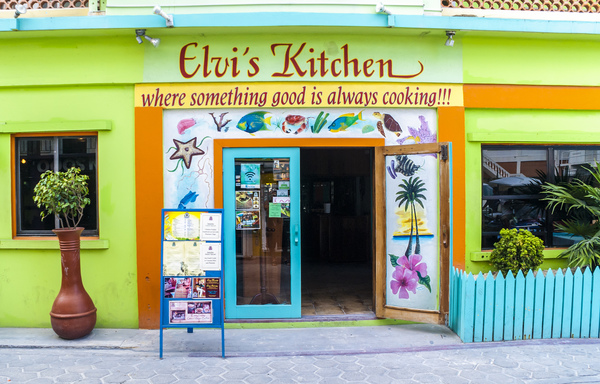 "Elvi's Kitchen on Pescador Drive"
Fish Seré images taken at Elvi's Kitchen on Pescador Drive – San Pedro, Ambergris Caye.
Note: Maya Island Air offers daily, scheduled flights from San Pedro, Belize City and Dangriga. Book your flights today!